Retention
After braces are removed, the teeth still have tendency to move around a bit as a natural part of the growth process. Retainers are removable appliances that are used to prevent this kind of shifting. A removable retainer attaches to your upper and/or lower teeth and holds them in their positions.
Hawley Retainers
The Hawley retainer, one of the most common types, is a removable retainer made of a combination of metal wires and sturdy acrylic, and is designed to keep your teeth in place. This retainer is specially made from impressions of your teeth so that it fits snugly and comfortably in the roof of your mouth, while any wire or acrylic framing keeps your teeth in perfect position. The acrylic can also be personalized with a large number of colors and/or patterns.
As a  removable item, it's made of a combination of plastic and metal that is molded custom to fit your mouth. As you've probably seen, the wires sit against the six front teeth with loops near the canines that allow for minor adjustments as the teeth settle into place.
Because of these plastic and wire components, though, this retainer can be distorted or changed by heat or damage from impact, so handle with care. Dr. Marston will fabricate a retainer for each arch and encourage you to wear it regularly for upwards of two years. Initially, the retainer should be worn near full-time (16-18 hours daily). Usually after a few months, Dr. Marston will reduce the amount of wear you'll need to keep things in place each day.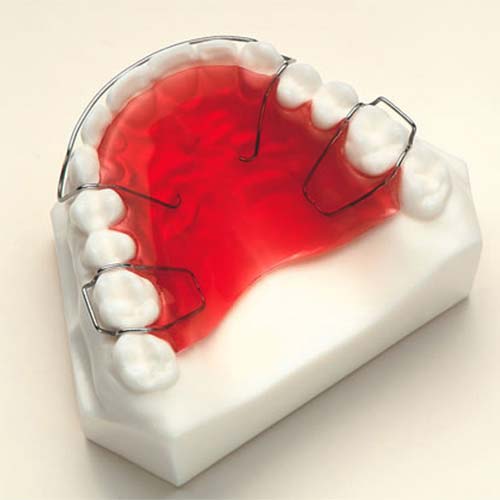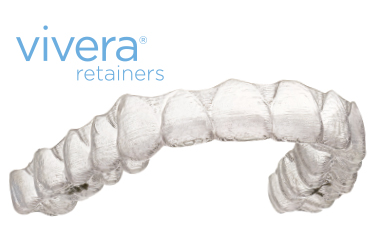 Vivera Retainers
The Vivera Retainer, by Invisalign, is the best option for maintaining long-term alignment of teeth. Vivera is an option for you to use regardless of what technology (braces of invisalign) that Dr. Marston used to align your teeth. A Vivera retainer looks very similar to an Invisalign aligner, however, it is thicker and more durable. When you're finished with treatment, we will provide you with a schedule for recommended wear time (i.e. nights only, few hours during the day, etc) Our goal is to ensure that your teeth remain in the same place they were when you finished treatment. Vivera retainers lock in your beautiful smile invisibly, whether you're in the classroom or boardroom you will find these allow you to be confident and comfortable wearing them at any time, day or night.
Unlike other traditional clear retainers, Vivera retainers are made with the same state-of-the-art technology as Invisalign® aligners and use 3-D digital imaging, proprietary thermoplastic material, and advanced fabrication technology. All of these things combine to create a strong retainer with an extremely precise fit that grips firmly and feels comfortable. Best of all you wont have to have the goopy putty put into your mouth, Vivera is the only orthodontic retainer on the market that does not require an alginate impression. Invisalign sends you 4 sets of clear retainers that are created from your final iTero scan.
Essix Retainers
The Essix retainer is a clear removable retainer that fits over the entire arch of teeth. Essix retainers have no metal wires and are virtually invisible. They are very durable, inexpensive and easy to wear.
Essix retainers gently guide your teeth into a position where the upper and lower sets are even, straight and align with each other. Though your teeth may feel firmly set in your mouth, they move when under constant pressure, and can assume new positions in the mouth all on their own. Essix retainers maintain the intended position following orthodontic treatment, all while providing minor corrections to slightly misaligned teeth if needed.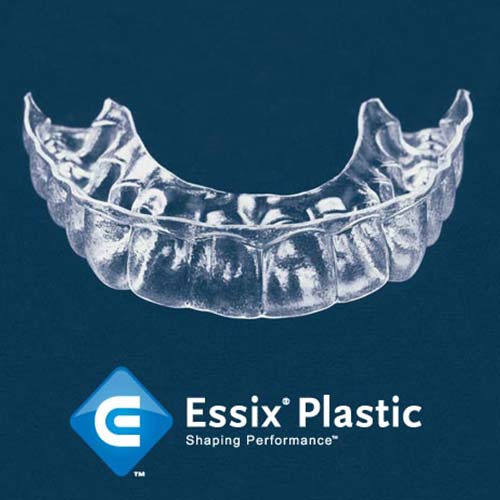 Monday 8:00 AM – 5:00 PM
Tuesday 9:00 AM – 6:00 PM
Wednesday 7:00 AM – 4:00 PM
Thursday 8:00 AM – 5:00 PM
Friday 8:00 AM – 4:00 PM
Marston Orthodontics
9330 Carmel Mountain Rd. Suite D
San Diego, CA 92129
Marston Orthodontics offers the most effective orthodontic treatments available with financing which makes it more affordable than ever before. We create beautiful smiles for kids, teens and adults in and around Rancho Penasquitos, Carmel Mountain, Poway, CA
Dr. Blake Marston provides orthdoontics for children, braces for teens and adult braces, including metal braces,  Invisalign for adults, Invisalign for teens, and more. Call 858-484-6100 today for your FREE Consultation for braces or Invisalign at our Rancho Penasquitos Orthodontist office.